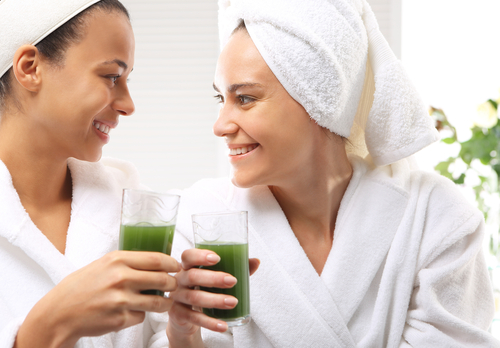 The main reason I got into the wellness industry is because I was tired of watching people harm themselves—setting their health back instead of moving it forward—by listening to faulty, misguided information. While I don't think the people who spread this misinformation intend to hurt you, that's often the end result.
I believe that the health industry should actually improve our health. That's why I'm always on the lookout for harmful myths, fads and fakery to expose. Every now and then, however, I get surprised. My research takes me down a path my skeptical nature never expected, and I discover something that sounds like a baseless trend but actually isn't.
That's exactly what happened to me years ago when I first started researching colon cleanses and gut detoxes. They're so much more than just another health fad. In fact, I'm thrilled they're becoming as popular and mainstream as they are. Let me tell you why—
What Works Against Your Gut? Everything
Ideally, your gut should have about 85 percent "good" bacteria, and only 15 percent "bad" bacteria. The reality is that modern life keeps those numbers very different.
Practically everything in your environment can make your gut and colon unhealthy. The processed foods most of us eat, artificial sweeteners that are supposed to be healthy, the sugar you treat yourself to every now and then, and the cocktail you end your evening with. Not to mention chlorinated water, chemicals used in farming, antibiotics that you take and that you eat in meat and dairy, even pollution in the air—they all impact your gut and, your colon, and your health shows it.
Symptoms of an Unhealthy Gut
That's right, I said your health shows it. Not just your digestive system. Your overall health, because an unhealthy gut and colon negatively impacts more than just your digestion. All of these conditions are signs you could use a colon cleanse to reset your gut:
Gas and bloating

Constipation

Diarrhea

Acid reflux

Skin problems

Overall sickness

Headaches

Urinary tract infections

Trouble sleeping

An inability to lose weight

Sugar cravings
In other words, if any of these sound familiar, even though your doctor says you're just fine, it may be time to think about a colon cleanse.
Natural Ways to Cleanse Your Colon and Reset Your Gut
So now that you've decided on a colon cleanse and gut detox, the question becomes which one is right for you? Enemas and high colonics aren't everyone's style–and the truth is that the studies on their effectiveness aren't all that well designed. That's okay, though, because there are other, natural ways to clean everything out and restore balance to your digestive system.
Aloe vera.

Well-respected as a gentle laxative, it cleans your colon without harsh chemicals. Combine 2 ounces fresh aloe vera gel or juice with the juice of one lemon, and run it through your blender until smooth. Store in the refrigerator and sip on it throughout the day.

Ginger.

This spice helps keep the colon clean by helping it function properly. Right along with that, it triggers your body's production of acids that help digest food, so it's broken down efficiently. Finally, ginger is great for reducing bloating, so you just feel better.

Raw vegetable juice.

Get all the fiber, nutrients, enzymes, and amino acids your colon and gut need to move everything through and get healthy, all from a glass of raw veggie juice. I don't recommend the premade juices from the grocery store, because they've been so heavily processed that you won't get everything you need for a true cleanse. Instead, run your favorite veggies through your blender as a healthy way to start your day.
Triple Action Cleanse. If you're looking for a fast, easy, and convenient way to cleanse your colon, reset your gut, and take back your health, you should take a look at a product called Triple Action Cleanse. It's an all-in-one formula that contains the fiber, probiotics, and magnesium to get you regular, without the gas and bloating.  What I like about Triple Action Cleanse is that, unlike other cleansing products, it is gentle enough to use everyday.
Your gut and colon really could be what's making you sick. Take back your health—take back your life—with a health trend that's more than just trendy.