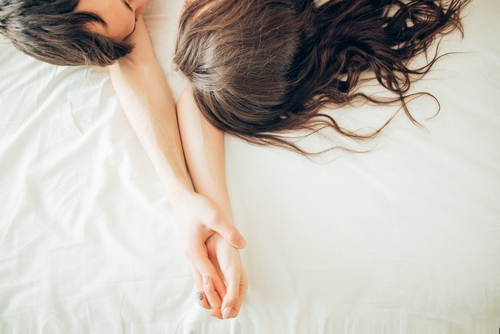 Turn on the television. It doesn't matter what you're watching-the news, a sitcom, or a reality show-by the end of the evening, you'll have seen it. A commercial for a little blue pill. Or a sunset with two people in bathtubs. Both, ways to increase male performance.
Now, don't misunderstand, I'm grateful that men have so many options if they sometimes need a little boost as they get older. Still, the proliferation of products to help a man's libido does start to make you wonder why we haven't spent as much time thinking about ways to help a woman's sexual energy and performance.
So, I've taken it upon myself to remedy that and find some of the most effective and natural ways to boost a woman's libido.
Get an adrenaline rush. Most people think of romance as being slow and gentle, but a new study indicates that doing something to get your heart racing and your adrenaline pumping can supercharge your libido as well as your heart rate. It can be as adventurous as parasailing, or as sedentary as watching a scary movie or riding a roller coaster. The key is to get out of your comfort zone together!

Try yoga. Any exercise can help boost your libido, but yoga is particularly impressive. First, it helps you relax and manage stress, a known libido killer. It can also put you back in touch with your body and, in turn, your sexuality. Finally, yoga can help with blood flow so you reach mind-blowing orgasms.

Have a glass of red wine. According to the

Journal of Sexual Medicine

, women who drank a glass of red in the evening reported having a stronger libido and even better physical responses than women who either drank another type of alcohol or didn't drink alcohol at all. You'll want to keep it to a single glass because drinking too much can be counterproductive. Still, that one glass could do wonders.

Indulge in some dark chocolate. You may have heard that eating chocolate releases feel-good chemicals in your brain. Well, guess what? It's true. Dark chocolate causes your brain to produce dopamine, a "pleasure chemical" that can help relax you, lift your mood, and most intriguing, enhance your body's response to physical stimulation.

Go traditional. While most of the modern attention has been paid to the way supplements can help a man's libido, traditional herbs have been valued for their benefits to women for centuries. Maca root, panax ginseng, and ashwaganda are just three of the most effective options. All of them have been linked to higher sex drive in women both during and after menopause!
While a romantic bath might be nice, you don't need your own little blue pill. Not with these natural ways to boost your libido!